Romantic Puerto Rico - Stay at the Chateau Cervantes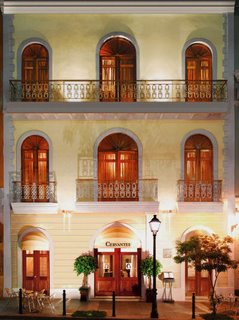 Looking for a romantic way to spend your honeymoon or celebrate with the one you love?

One of the best places to celebrate your love is located in Old San Juan at the Chateau Cervantes and this luxury hotel is all about the pampering of your sense of touch, taste, smell, hearing and seeing.

Both you and your love will be pampered and bathed in luxury. The Panza, the hotel restraurant has a gourmet feast laid out every single day and also considered to be one of Puerto Rico's 5-star eateries.

It all starts when your plane lands in Puerto Rico. You will have full access to a limo that will pick the two of you up from the airport and whisk you away to your hotel room and once you're there, you will have a butler that is ready to answer to your every whim with a smile.

The beautiful furnishings will make you both feel relaxed from the moment you arrive and you will a glorious time in Puerto Rico , even if you never leave your room!

Labels: puerto rico travel